Wellbeing Dogs
How can dogs help with mental health?
People and dogs have been connecting naturally in many ways for centuries. Dogs provide emotional support, give people an opportunity for connection and can help with stress and anxiety.
Our wellbeing dogs Mac & Bluebell have integrated into our community and achieve many mental health benefits such as attendance, behaviour, social connection and emotional regulation for all members of our community, especially our learners.
How does a Wellbeing Dog program work?
Our school works with Dogs Connect to design a long term, sustainable program so that our school's needs are met and supported.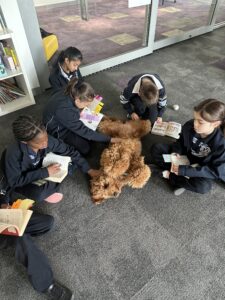 Mac & Bluebell are chosen for each interaction and each environment. they have different strengths and we utilise their strengths for different situations. The Dogs Connect program is built is in line with the International Standards for Animal-Assisted Intervention.
Our wellbeing dogs are trained 'on the job' so itallows staff, caregivers, community members and students to learn and grow alongside our Wellbeing Dogs.
The inclusion of Mac & Bluebell as part of our school's wellbeing program focuses on increasing connectedness and finding ways to manage trauma and anxiety in conjunction with existing strategies and community links.
We cannot wait for you to meet Mac & Bluebell.